Member
Join Date: May 2010
Location: Alexandria, VA
Posts: 32
Mentioned: 0 Post(s)
New Saddlebags - Dowco Elite Fastrax
---
I just installed my new Dowco Elite Fastrax Saddlebags on my 2010. Someone else on here said they interfered with the turn signals, but they seem fine. You just have to make sure they are not too far back. They come with 2 big velcro straps that go over the seat, but on the Versys, if you put the forward strap in the front of the passenger hand rails, across the little sloped section forward of the actual passenger seat, they work fine.

I have the tail bag as well, and the whole set comes with plenty of straps to secure them. They touch the turn signals, but it's not a problem. With the tail bag secured by one strap behind the license plate light (that keeps the tail bag pulled rearward away from your back), plus two shorty straps connected from the front of the tail bag to the front of the saddlebags; then with the saddlebags secured with one shorty strap each from the bottom front of each bag to the frame down forward of the passenger footpeg, and the saddlebags connected at the rear with one long strap that goes under the license plate mount (that pulls the bags tight rearward and downward), they are rock solid.

I just thought I'd let you all know...

I attached 2 pictures (hopefully they come through).

I'd love some hard cases, but these are a helluva lot cheaper!
The straps fit under the seat. I did the same thing until someone on the forum let me know; they will fit, just slightly harder to line up the seat latch with the straps under. But the tension of the seat keeps the bags from sagging. Nice bags, mine are the regular Fastrax.
Without the tail bag, notice the seat: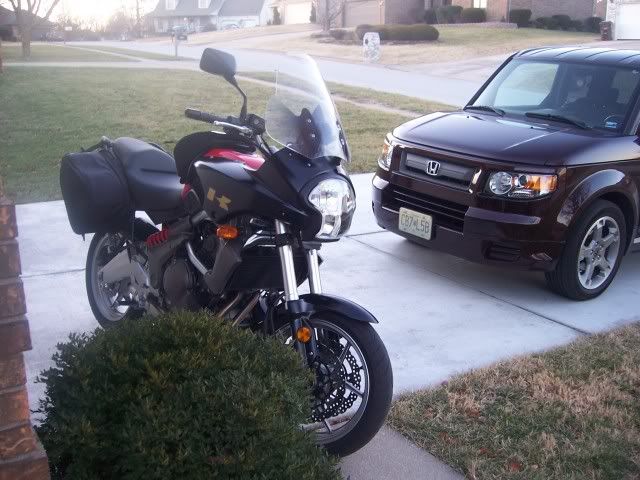 ---
My Album:
To view links or images in signatures your post count must be 0 or greater. You currently have 0 posts.

---
Last edited by Element; 01-21-2011 at

11:14 PM

.
Member
Join Date: May 2010
Location: Alexandria, VA
Posts: 32
Mentioned: 0 Post(s)
Yeah if I was going to leave the bags on, I'd run the straps under the seat. I figure I'll take them off at night if I'm parked in a hotel parking lot or on the street, and taking the seat off is just one extra step. But I'll give it a try and see if it improves the positioning.

And nice car. I have an Element, too (2004).
Nice set up on the bags
and thanks for sharing.
Posting Rules

You may not post new threads

You may not post replies

You may not post attachments

You may not edit your posts

---

HTML code is Off

---