Member
Join Date: Jun 2010
Posts: 291
Mentioned: 0 Post(s)
Hyperpro- Thumbs up!
---
I installed the lowering spring yesterday and it was easy and simple. I rented a compressor from Hyperpro . The seat is lower and I have some sag when I sit on the bike unlike the stock spring which never moved even with no pre-load. I don't like spacers or adaptors as a rule and cost was not much more than a lowering kit. Klause @ Hyperpro was very helpful. The stock kickstand is fine with just the rear lowered, no problem. Im hoping for a slower responding bike with the changed geometry as I just cruise most of the time.
good morning,

i am looking at the hyperpro lowering spring(27" inseam) and was wondering about the cost.(they emailed $320.00)...did you raise the front forks and if so, how much?

i also use the bike for commuting and crusing...

thanks in advance,

good luck,
FREE TEXAS.
bluebonnet2
Member
Join Date: Jun 2010
Posts: 291
Mentioned: 0 Post(s)
I did raise the forks a little under an inch (the max). I do need the kickstand cut, its just not safe with it at stock length.
Thanks for your thread.
The only issue I don't care for other than the cowling buz, with my new Versys is the rear suspension. So I also again looked into Hyperpro rear shock options.
On 1/1/10 I received the following response to my inquiry regarding pricing and ordering
information.
Thank you for your interest in our products.
Yes, we can supply you with a new rear shock for the Kawasaki Versys 650, built to your specs. Please see detailed quote below
The Hyperpro product is available to you.
The available features are rebound damping, high and low speed
compression damping, ride height or length adjuster and remote pre-load
adjuster.
The shocks come as either emulsion shock, with remote reservoir or
fixed or articulated piggy back reservoir.
The shock is called the " 3 D " model.
Please check our web site for more details, models and other
available products at www.epmperf.com
The Hyperpro shock has some advantages over other products
on the marketplace today.
--- It has a 16 mm shaft which is not only sturdier, but also displaces
more oil in the compression stroke so that you can regulate the compression
and rebound damping better.
--- The shocks have a new seal design which has been proven in tough
Moto-cross competition use and showed that it is far better than others when
it comes to leakers.
--- The Hyperpro " 3 D " shock utilizes the "Bladder" technology when it
comes to separate the oil from nitrogen gas. Other manufacturers utilize a
floating piston. A floating piston always has to overcome stiction first
before it begins to move. A rubber bladder does not "know" what friction or
stiction is and therefore reacts smoother and quicker to pressure changes.
--- The Hyperpro shocks come with a progressive spring to ensure a compliant
ride and to prevent bottoming out under load.
The shocks are all black with a purple spring.
A black spring is an alternative.
Front:
Hyperpro progressive fork springs - true progressive = rising rate
with the appropriate oil @ $ 139.00
Rear shock: Model 460 = $ 589.00
Emulsion shock with adjustable rebound damping
Rear shock: Model 467 = $ 969.00
with adjustable rebound damping, with piggy back reservoir
and high/low speed compression damping.
Optional:
LA = length adjustment for +/- 1/2 seat height changes = $ 89.00
HPA = Hydraulic Pre-Load adjuster (remote) = $ 269.00
Warranty = 5 years
Delivery time : we try our best to get the order from the manufacturer and
ship it to you within 3 - 4 weeks.
Our shipping charges are based on UPS Ground shipments.
It can take up to 6 business days to some western parts of the country.
S&H within the continental US = $ 26.00
Please call the office in NJ at 732-786-9777 with your questions and/or order.
Thank you for the support of our business, we are looking forward serving
you.
Regards
Klaus Huenecke
EPM Performance Imports
Email:

[email protected]


Phone/ Fax: 732-786-9777www.epmperf.com
---
"Respect the Ride if you don't you Won't"
"A man's got to know his limitations"
---
Last edited by cmoreride; 02-01-2011 at

11:12 AM

.
Member
Join Date: Jun 2010
Posts: 291
Mentioned: 0 Post(s)
A full custom shock would be great but the improvement from just the spring was huge. The big harsh bumps aren't harsh and half of the small hits just disappear. If you are not too agressive or a racer type the spring change is a cost effective way to smooth out the ride significantly. Im done with suspension mods and think I got off cheap.
Quote:
I did raise the forks a little under an inch (the max). I do need the kickstand cut, its just not safe with it at stock length.
I fitted an ER6 (Ninja 650 in USA) side stand/kick stand instead of cutting my Versys stand. I had fitted Speedys lowering kit. Bike seems to have the same lean as my wifes Versys which is standard height.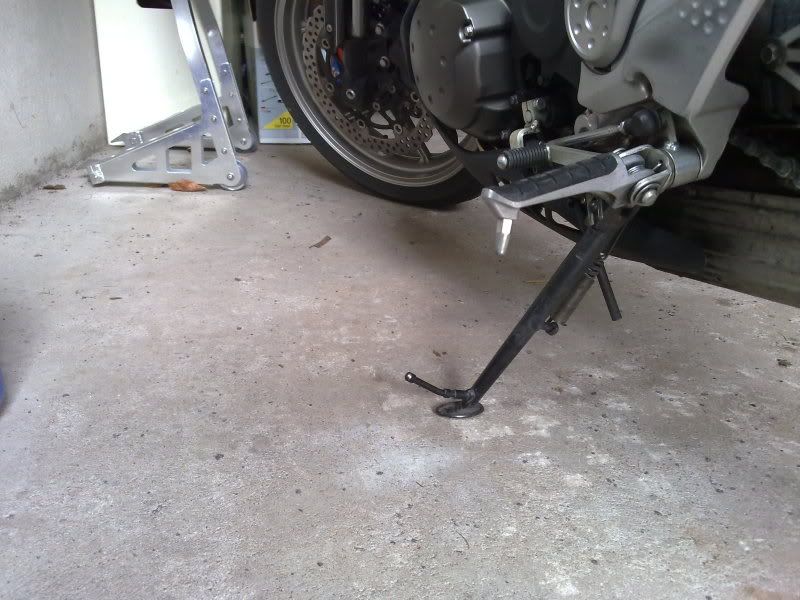 ---
2008 Kawasaki Versys 650
2007 Kawasaki Versys 650
2006 Honda CBF 600 - sold
2006 Honda Varardero XL125 - sold
Member
Join Date: Jun 2010
Posts: 291
Mentioned: 0 Post(s)
Nice V-twins, I wished I had done that. Oh well.
Member
Join Date: Feb 2011
Location: Plymouth, UK
Posts: 41
Mentioned: 0 Post(s)
Any idea how much it lowered the height by? I'm thinking of getting one for my mrs's Pegaso. How did it affect the ride? Do you need to drop the forks or is it ok without?
I just installed a Hyperpro Progressive Shock on my Versys. Had it painted Lime Green of course. (their version of lime green anyways).

I weigh in at 280, 6'1. If I set the shock with the new spring to the stiffest setting, the bike does not even budge when I sit on it. I have dialed it down a bit, but I like a stiffer ride than most.

It sure is easy to ride wheelies now. It used to be only wheelies in first and then only under power. Now I can get the nose up in first to the balancing point and ride it as long as I can stay balanced. I am thinking it is due to the stiffer back end. Not sure, but took it for a test drive after installing the shock and all of sudden I was able to do that. I think it is the no sag when I gas it. Before with my weight and the std spring I would get a lot of sag on the bike.

I gotta say, I love the new spring though. Took them quite awhile to find someone who could powder coat it the green color. They called back a couple times asking about another color... But I stuck it out and they found someone. I even told them the colorite codes, but whomever did the paint, did not use them.

Not sure why the delay with the paint, it took 2 months, but they were honest about it and kept me in the loop. I thought that was cool and would buy from them again.

Vic
Posting Rules

You may not post new threads

You may not post replies

You may not post attachments

You may not edit your posts

---

HTML code is Off

---