Member
Join Date: Jan 2010
Location: Vancouver Island, BC
Posts: 18
Mentioned: 0 Post(s)
Tire change noob...
---
OK, nobody else has to admit to it, but today I installed new tires for the first time, and ran into a little snag. Pilot Road 2s. Just went for a short ride, but it (of course) took me a little longer than I thought it would.
I used the "2x4 lever hinged to a bare stud" method to break the beads, worked great (worked just as well on my jeep's 35x12.5-15s, btw). Used some crappy cheap irons, and cut up an old windshield washer fluid jug to use as a rim protectors. I also used a plastic "falling wedge" (if you have fallen many trees, you will know what this is) -- worked great after the initial part of the bead was over the rim to hold the bead in place as I worked it off with the irons on either side.
Started with the rear, wrestled the original tire off, squeaked the new PR2 on, put in my plastic bbs for balance (works well, btw), and guess what?
Snag. Tire on backwards. I uttered a littany of unprintable oaths, then I got a little more practice at dismounting and mounting. The front I managed to get on the right way, however.
The bbs seem to be balancing well -- no vibration up to 150km/h.
Not a great pic of the bike, but everybody likes pics: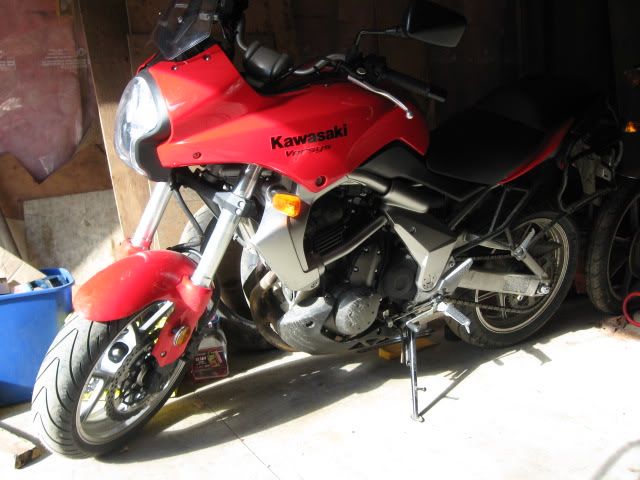 I am not an experienced enough rider to comment on the tires yet, an I still have to rub them in a bit. Better than the squared-off, plugged, worn-out rear that came off anyway!
---
recovering moparholic
Thanks for sharing and we all learn from experience.
Member
Join Date: Jan 2010
Location: Vancouver Island, BC
Posts: 18
Mentioned: 0 Post(s)
Thanks!
Yup, pretty much what I used. The tire change(s) went well, I think, just funny that I got my first tire on backwards. 50/50 chance, and I just never checked the arrows, was concentrating on other stuff... as soon as I seated the bead and stood the tire up, I knew. I remembered that I never checked, and sure enough...
I checked out your post on your ride through the canadian rockies -- nice! I know that route very well, as I grew up just outside of lovely (*koff*) Prince George, and made many trips up and down the parkway, to Jasper, to Mt. Robson, etc. (although never on a bike). Looks like you had nice weather!
I hope to ride through there again next summer...
---
recovering moparholic
I never mount street tires. I take them to the Cycle Gear about 3 miles from my house. Money well spent in my opinion.
Member
Join Date: Jun 2010
Location: Keizer, OR
Posts: 132
Mentioned: 0 Post(s)
Quote:
I never mount street tires. I take them to the Cycle Gear about 3 miles from my house. Money well spent in my opinion.
I been changing tires for years but now I'm tired of doing it. My favorite bike shop runs $15 mounting specials all the time so I let them do it. They also have a no touch style machine which means no knocked off rim finish which is important with black rims.
I let a shop do the one's on my cbr, scratched them all to hell. Never went back. Cycle Gear hasn't done me wrong yet so i keep going there.
Posting Rules

You may not post new threads

You may not post replies

You may not post attachments

You may not edit your posts

---

HTML code is Off

---