Member
Join Date: Oct 2010
Location: Philadelphia, PA
Posts: 57
Mentioned: 0 Post(s)
Scorpion Exhaust Installation Question
---
Hi all, I bought a Scorpion slip on for my 2009 V from a fellow forum member and just finished installing it. However, I think I might be missing a bracket. Basically the pipe is pressed up against the swingarm since I had to hook it up to the stock mounting bracket. I took some pics so you can see what I mean.
Can someone who has a scorpion exhaust please let me know whether there is a bracket that should have come with the exhaust so the pipe sits lower (like part number 3 in these instructions:
http://www.scorpion-exhausts.com/sit...ka-74-12.pdf)?
If so, does anybody know where I could get one of those? Also, is there any danger to having the tip of the exhaust can touch the swingarm like it is in the pics? I am hoping that I don't have to remove the can and wait till the bracket gets delivered. Thanks so much!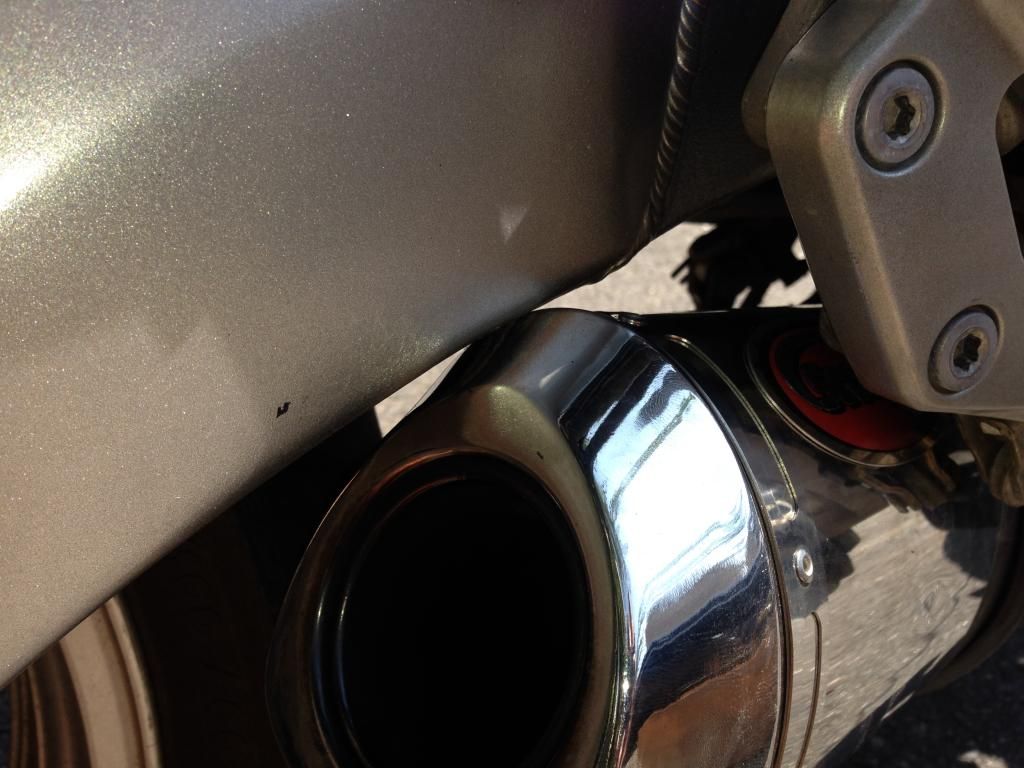 ---
Last edited by psych-ed; 09-04-2014 at

03:08 PM

.
Member
Join Date: Oct 2010
Location: Philadelphia, PA
Posts: 57
Mentioned: 0 Post(s)
Well a quick update after hours of google searching. It looks like there is supposed to be a mounting bracket that comes with the can. I sent an email to scorpion about ordering the bracket so hopefully they will get back to me with some good news. That said, do people think having the can touch the swingarm like that is safe? The pics are when the bike was on its sidestand so with me on the bike, there is a bit of clearance, but not much.

On a more positive note, the pipe sounds absolutely awesome and is much louder than stock, even with the baffle in. Definitely gets the attention of other drivers (and cabs). Could not be happier with the purchase! Now if only I could figure out how to decrease all the backfiring...
Member
Join Date: Jan 2010
Location: Norwalk CA
Posts: 15,625
Mentioned: 6 Post(s)
Always like the scorpion exhaust but put a yoshi on mine. It popped a good bit on decal at first. After a short while it hardly ever popped. The scorpions never need to be re-packed also...
---
2009 Blue Versys.
To view links or images in signatures your post count must be 0 or greater. You currently have 0 posts.
Sold
To view links or images in signatures your post count must be 0 or greater. You currently have 0 posts.


To view links or images in signatures your post count must be 0 or greater. You currently have 0 posts.

My Farkles...
To view links or images in signatures your post count must be 0 or greater. You currently have 0 posts.
...
To view links or images in signatures your post count must be 0 or greater. You currently have 0 posts.

My Video Channel
To view links or images in signatures your post count must be 0 or greater. You currently have 0 posts.

My Photos...
To view links or images in signatures your post count must be 0 or greater. You currently have 0 posts.


I'm not a Gynecologist. "But I'll Take A Look"

Everyone has a plan 'till they get punched in the mouth...
Mike Tyson

"Ya'll can go to hell, I'm goin' to Texas!"...Davey Crockett
Member
Join Date: Aug 2014
Location: welches, oregon
Posts: 3,139
Mentioned: 5 Post(s)
as long as its only makeing contact when on the stand your fine as long as your not jumping your bike xD
Posting Rules

You may not post new threads

You may not post replies

You may not post attachments

You may not edit your posts

---

HTML code is Off

---