Member
Join Date: Mar 2013
Posts: 49
Mentioned: 0 Post(s)
Lets see what they say
From: Phillip XXXXXX
Sent: Monday, April 01, 2013 12:00 PM
To: '
[email protected]
'
Cc: Phillip XXXXXX
Subject: Safe for motorcycle chains with O/X/Z etc... rings
Is your product safe for motorcycle chains with O/X/Z etc... rings?
Phillip XXXXXX
Network Engineer
XXXX, Inc.
Member
Join Date: Mar 2013
Posts: 49
Mentioned: 0 Post(s)
No specifics and phone number fail
------------------------------------------------
From: info [mailto:
[email protected]
]
Sent: Monday, April 01, 2013 12:20 PM
To: Phillip XXXXXX
Subject: RE: Safe for motorcycle chains with O/X/Z etc... rings
Phillip: I am not sure as to 0/x/z rings are. We do have a lot of motorcycle shops that use our product on the chains of the bikes they service. Also we have a lot of riders that use the product.
Give me a holler at 77-656-5178.
Col Davis Stevenson RET
Although, being that the company is in GA, I'm guessing that number means to say "770-656-5178
Member
Join Date: Dec 2009
Location: Way up north
Posts: 1,400
Mentioned: 0 Post(s)
Are you starting ANOTHER chain lube thread ?
LOP
Quote:
Are you starting ANOTHER chain lube thread ?
LOP
haha, yeah sorry I guess I am! I'm more curious in that it's technically a "dry" lube that also works to protect electronics from water damage, so it could feasibly help make the V more water proof in a heavy downpour or if people use it in more off-road situations.
When the demo guy was able to submerge a lightbulb that had been coated in the stuff as well as an electric drill that was able to work just as well in the water as out, it got me to thinking.
On top of that, it also seems to be a cleaning agent that helps take rust off. I have a few bolts and crannies that are starting to get a little rust and I figured if this stuff is as awesome as it seems (being that it could lube the chain well also) why aren't I calling them RIGHT NOW?? lol
Anyway, just thought it was a neat invention by some locals here in the dirty south...
Why not have a lube thats good for ALL your toys?
'Murica
...only commenting on the applicability of Strike Hold as a chain lube: it might be reason for pause if the producers of the product are not sure what an O-ring chain is...not a deal-breaker, but something to think about...

The product information includes the following statement: "Strike-Hold® will not harm rubber, paint or most plastics and will not wash off with water, even salt water!", so possibly o-rings will be protected.

I stay on top of chain lube news, tests, and comparisons at the WebBikeWorld.com website, and Strike Hold as a chain lube has not made an appearance there yet, although it has been mentioned as an electrical contact cleaner.
Forgive my ignorance... I have no idea what an o-ring is and how it differentiates from chains of other letters.
Quote from Wikipedia:
"The o-ring chain is named for the rubber o-rings built into the space between the outside link plate and the inside roller link plates. Chain manufacturers began to include this feature in 1971 after the application was invented by Joseph Montano while working for Whitney Chain of Hartford, Connecticut. O-rings were included as a way to improve lubrication to the links of power transmission chains, a service that is vitally important to extending their working life. These rubber fixtures form a barrier that holds factory applied lubricating grease inside of the pin and bushing wear areas. Further, the rubber o-rings prevent dirt and other contaminants from entering the inside of the chain linkages, where such particles would otherwise cause significant wear"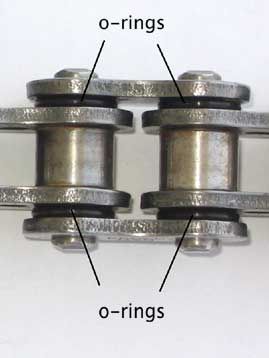 Oh! (hehe) Makes sense