Join Date: Oct 2008
Posts: 2
Mentioned: 0 Post(s)
How much can the Versys carry?
---
I am considering a brand new bike. I have had a KLR in the past and enjoyed the simplicity of the bike. I went to look a 2009 KLR and ended up sitting on a Versys. The Versys seems like an interesting bike. I will use it mostly for a short commute but I want to put hard bags on whichever bike I get and do some camping off of it. I have also considered the Wee Strom. How do they compare as far as carrying weight?

Thank you,
I've put all three hard bags and a passenger on the V - no problem, plenty of power. You could really do the same with a KLR and Wee Strom as well. It's going to come down to personal preferrence. Sit on all three and decide what your rear likes best. Then consider how much off road you plan to do. The V can do off-road but it's not as equipped to do that as a KLR - and vice versa.
I had a KLR and a Versys for a while, but the KLR just sat around after I got the V.
V carries me and my camping gear probably about 300lbs total no issues.
V carries me, my better half and motel luggage probably close to 400lbs with no problems suspension, handling or power-even at high altitudes.
Somewhere in your operators manual you can look up its max load, ask the dealer, he won't have a clue, but should be able to look it up.
Last summer on trip down US West coast.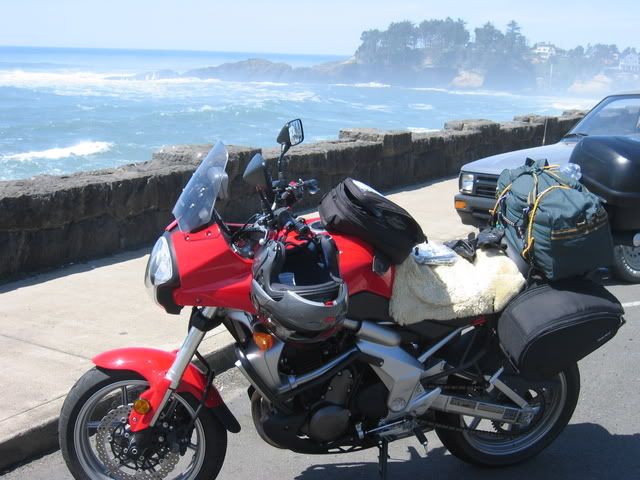 Machog
Join Date: Oct 2008
Posts: 2
Mentioned: 0 Post(s)
Thanks
---
Thanks guys,
Those are two excellent answers. I especially like the photograph. I have had an old Concours which I traded for an FJR 1300. I could load both of those bikes up with camping gear. I really loved the Concours. There was just something about that bike that really fit me well. I love to drive through Colorado camping at different spots. The FJR was great but I had a problem with that bike. It seemed that everywhere I drove I went 100 mph. I swore that I was going to "tone it down" the next bike I got. Hence, that's why I started looking at the KLR. 70 mph is about as fast as I care to go on a KLR. I figure I can stop and smell the roses better on that bike. However, after sitting on the Versys I have been thinking about that bike. The V feels great and I think it looks great as well.

Thanks,
K
Posting Rules

You may not post new threads

You may not post replies

You may not post attachments

You may not edit your posts

---

HTML code is Off

---