Member
Join Date: Aug 2008
Posts: 65
Mentioned: 0 Post(s)
How you mounting your Oxford heated grip control box?
---
Anyone here fitted Oxford heated grips on their bike? I just put a set on my Versys because I've used them on other bikes and loved them. Problem is the typical mount bracket they supply does't quite work on the Versys leftside clutch perch due to the mirror mount being in the way.
I wanted to see if anyone else had any slick ways they mounted the control module for the grips?
Super Moderator
Join Date: Dec 2013
Location: Sydney Australia
Posts: 1,463
Mentioned: 6 Post(s)
Member
Join Date: Aug 2013
Location: Silicon Valley
Posts: 544
Mentioned: 0 Post(s)
on the stock Kawasaki heated grips. they use a longer bolts, a spacers and mounting plate off of the mirror mounting bolts.
a quick search here may have used ubolt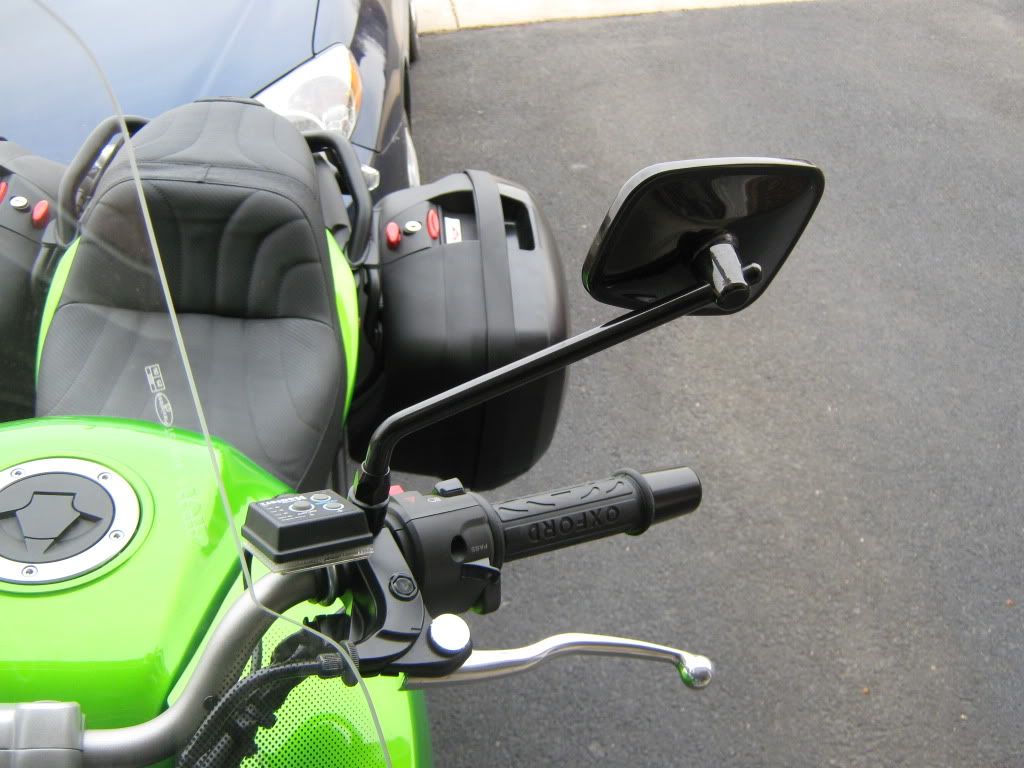 another one off the mirror
---
Last edited by Motojunkee; 07-23-2014 at

03:11 AM

.
Member
Join Date: Nov 2010
Location: Atlanta, GA - south of the city
Posts: 383
Mentioned: 0 Post(s)
Here is link to a bracket I made to hold a
remote right there.
Its Aluminum from Lowes, bent, and "milled" with drill press. Covered in velcro for remote attachment/removal.
Member
Join Date: Sep 2008
Location: Poughkeepsie NY
Posts: 1,164
Mentioned: 0 Post(s)
I just bent the pkatform part of the bracket up a few degrees at a time till it fit on the mirror mount.
Sent from
Motorcycle.com Free App
---
08' Versys
Givi racks with V35 sides, and V46 Top-case, Garmin Zumo 450 GPS, Powermadd Handguards, Motowerks GPS Mount, Peg Lowering kit, Flat Foot, Arrow Exhaust, Adjustable Levers, GIPro Gear Indicator, Oxford Heated Grips
The problem for me wasn't the angle so much as the spacers not allowing enough space on the clamp. I just 3M taped mine to the center of my handlebar clamp. It's actually super sturdy and very easy to access.
---
2014 Versys ABS
Posting Rules

You may not post new threads

You may not post replies

You may not post attachments

You may not edit your posts

---

HTML code is Off

---