Guest
Join Date: Oct 2009
Posts: 20
Mentioned: 0 Post(s)
Initial Thoughts
---
Bought the Versys last Monday. Managed to ride it to work Friday, a short test yesterday, and today I took her out for a proper test; Highways, Country Roads, gravel, a tad bit of off road, and home. Roughly 150 miles.
My Thoughts:
Fun Bike. Wheelies are easy in first; If you run to redline and shift you get wheel hop in the first four.
Comfort: Very good. Rode without any stops and never got butt burn or cramped. Previous owner was my size (6'1" / 185) and set the bike up well
Suspension: Front is very good, rear is stiff. Handled great, but I took a beating on the county roads.
Off Road: Geared a little high. Not so much going up, but descending required more brakes than I'd like (especially in the mud/wet grass I was descending in).
Road: Little high for super confident cornering, but light and very flickable. Stable under acceleration in turns, no frame flex.
Sucked up rough road real well, front seemed iffy in wet off road. Very versatile bike, definitely more road oriented.
Low end torque is surprising, and as long as you are active in the gearbox, highways and country roads are great. Tight twisties will be a blast as you should be able to keep in in one gear and use the engine to control your pace.
This is a Niche bike. The KLR/F650GS/DR etc. would be better as a short distance tourer with frequent off road riding, and she is a little small and buzzy for cross country. Very fun exploration/adventure bike, and a good commuter.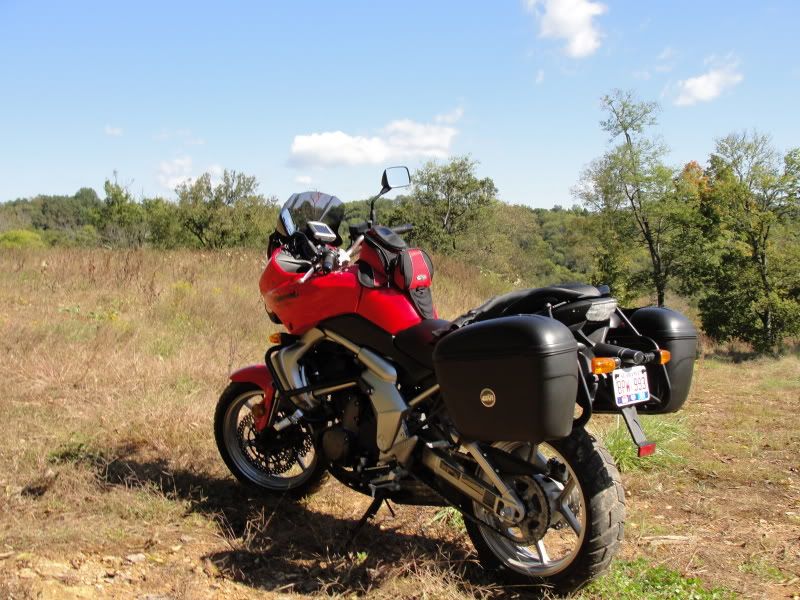 Member
Join Date: May 2008
Location: roanoke Va.
Posts: 365
Mentioned: 0 Post(s)
ive always felt the bike would make a great long distance tourer with a few changes ..after coming off an r1150rt bmw i can say without a doubt its just as capable to do the lond rides as my rt was ....enjoy
Member
Join Date: May 2009
Location: NJ
Posts: 139
Mentioned: 0 Post(s)
I felt the same way. Good luck-welcome aboard.My only comfort issue was the seat otherwise by far the best bang for the buck
Nice looking bike. I love the colour!
Guest
Join Date: Oct 2009
Posts: 20
Mentioned: 0 Post(s)
This seat has been modded to sit farther back and flatter. Still needs some height in the front (as is common knowledge here), but other than that, seems solid.
Posting Rules

You may not post new threads

You may not post replies

You may not post attachments

You may not edit your posts

---

HTML code is Off

---