Join Date: Aug 2009
Posts: 2
Mentioned: 0 Post(s)
Versys ergonomics
---
Hey all
New to the forum and about to pull the trigger on my first bike in 30 years. I have been riding my brothers Wee Strom this
summer and I cannot say much bad about it. I have just briefly sat on a V and will try to ride one soon. How is the riding position for a guy 6'3" 250lb the Wee has a very relaxed and comfortable leg position. Mostly gonna be back road cruising, weekend trips and not much off pavement. V is a good, capable and comfortable looking machine for what I percive myself doing with it. Thanks for your input.
Well I'm 6'-3" and 230lbs and love my Versys. The wee Strom has very good ergos for our size but so does the Versys. You might find the Versys a little tighter but not much. For rippin' up the back roads there's not much better imho. The seat on the wee Strom is a little bigger and therefore a little comfier for longer runs but with a little work (and a home made seat pad) I was able to pull off an IBA Saddle Sore 1600 this year.

Really you can't go wrong with either bike but I see the Versys as a nice touring coupe and the VStrom more of a pick-up. Happy hunting.
---
Falling down is your bodies way of saying you just screwed up.

IBA# 38547
Member
Join Date: Feb 2009
Posts: 214
Mentioned: 0 Post(s)
I would agree with Cuff. Both are fantastically comfy. Both have plenty of getup and go. Lot of Wees out there. Fewer Versys. Cool if you like doing your own thing.

The Versys attracts some lookers beacause there aren't so many around.
Member
Join Date: Jun 2009
Location: Akron Ohio
Posts: 575
Mentioned: 0 Post(s)
6-1, 230 here. I really like the upright riding position. Comfy for me, and the bike still has alot of punch even with my gf on the back. So thats 330lbs on the bike and it still rides great.
Member
Join Date: Dec 2008
Posts: 83
Mentioned: 0 Post(s)
i'm 6'5" about 240 and i really like my versys. it is my first bike so i'm not the most experienced but i find myself wishing the cockpit was a little longer. i'm going to get my saddle remade to accommodate that for me and i'm going to try to find some handlebars that are a little lower and angle them a little forward. in the end though i'm very happy. i commute on it to work when I can and it handles great in traffic. i have not gone on a long ride yet (over 150 miles) but when i'm at highway speed the engine was dont have problem keeping up or helping you to get through/around other cars (still has good power on tap). i often ride with full luggage (givi) and it fits great on the bike, has good room in it, and doesn't look ugly. with out the luggage on everyone thinks that its a duc or something else fancy! with it on people think you own a BMW.

basically it a good, inexpensive, well rounded bike.
---
2008 versys red with full luggage

"when in doubt ghetto it out"


To view links or images in signatures your post count must be 0 or greater. You currently have 0 posts.

If you are 6'3" and 230lbs, then the DL650 is a better choice for you if comfort or potential non-tar travel is primary. The Versys is a bit sportier to ride and feels lighter, especially at lower speeds and transitioning from side-to-side.
I own a DL650, and at 6'1" and 230lbs with a 32" inseam, I appreciate the longer seat area and slightly more leg room.
We just purchased a Versys for my wife. I love this bike and I am comfortable with its ergonomics, but I don't like being unable to move rearward on the seat due to the pronounced hump of the passenger area.
If I didn't own a DL650, I would be very happy on the Versys. However, the DL650 is still 95% as sporty and it offers slightly better ergonomics for someone my (or your) size.
Plus, the DL650 offers center-stand options, a rear rack, a 19" front wheel for more off-road tire options, better high beam headlights and a 5.8 gallon tank (the Versys has 5.0 gallons).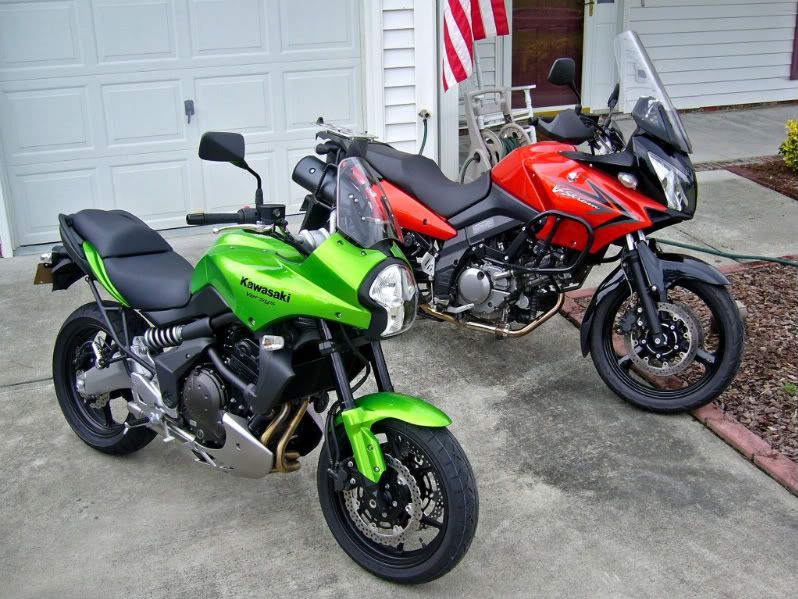 ---
Last edited by E-nigma; 08-31-2009 at

02:01 PM

. Reason: added picture
Posting Rules

You may not post new threads

You may not post replies

You may not post attachments

You may not edit your posts

---

HTML code is Off

---