Member
Join Date: Feb 2012
Posts: 108
Mentioned: 0 Post(s)
Cycra handguards installed
---
I bought the Cycra Probend kit for $130.00. The guys at work said they are the best. The bolts they provide screw right in to the threaded ends of the handlebar, you just need a couple of small spacers to clear the levers (unless you get shorty levers, which would make it even cleaner.) Also, the 1" spacer in the kit isn't long enough to clear the clutch cable/brake lines, so I asked a guy in the shop I work at to make me 1.5" spacers. The same thing could be done with a stack of washers added to the 1" spacer provided. With the additional length of the washer you'll need M8X60mm bolts, too. Cycra sent me two right side "bumpers" for the ends, so I need to get a left bumper from them, but overall I'm very happy with the kit. Haven't noticed any addition vibes from removing the bar end weights-I guess they cancel each other out. I put the stock windshield on after these pics and no clearance issues at all.
Looks good. Nice job with the spacers.
---
Or was that look THEN leap?
To view links or images in signatures your post count must be 0 or greater. You currently have 0 posts.


2012 650 Versys
Member
Join Date: Aug 2008
Posts: 65
Mentioned: 0 Post(s)
How are the vibes without the barend weights?
Member
Join Date: Jan 2014
Location: Palmer, ALASKA
Posts: 1,277
Mentioned: 3 Post(s)
I have the same set up. They have worked great for 4K miles so far. I even installed a throttle lock and still fit it in. And recently installed some nice LED signal bars on them too!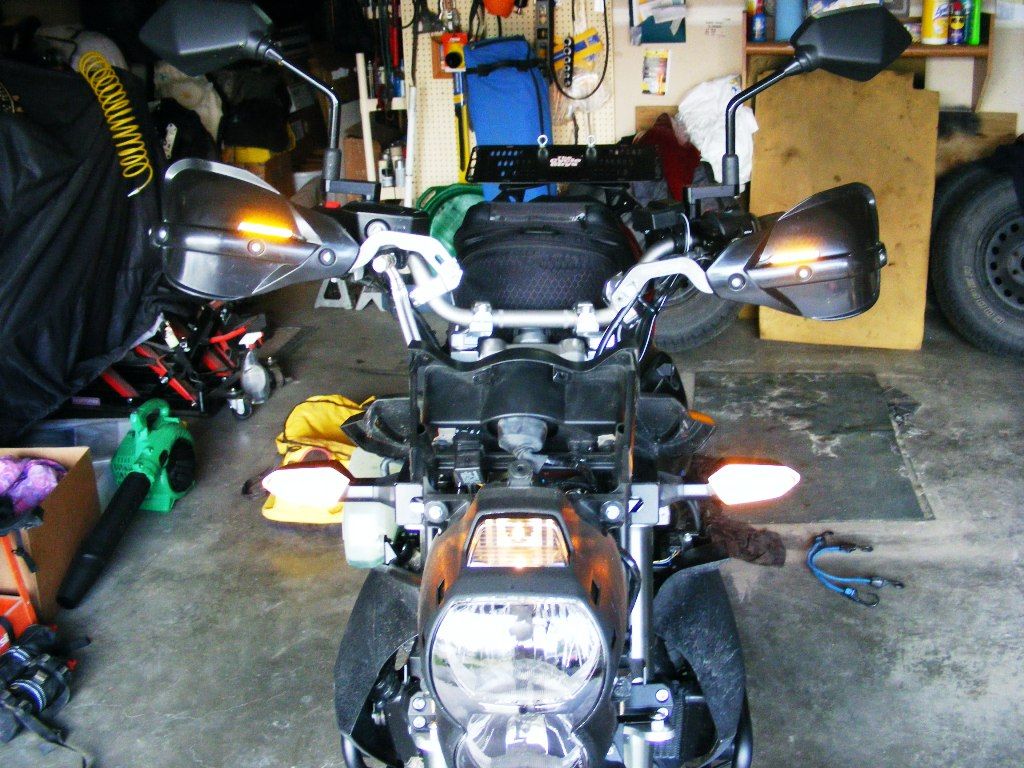 ---

To view links or images in signatures your post count must be 0 or greater. You currently have 0 posts.

Jeff Reichel Palmer, ALASKA
1 Tim 6:11-12 "FIGHT the GOOD Fight"
There is no inappropriate temperature to ride a motorcycle…just inappropriate layers of protection.
2011 ADVersys
To view links or images in signatures your post count must be 0 or greater. You currently have 0 posts.

92 FATBOY (in rebuild status)
Posting Rules

You may not post new threads

You may not post replies

You may not post attachments

You may not edit your posts

---

HTML code is Off

---