Member
Join Date: Dec 2009
Posts: 2
Mentioned: 0 Post(s)
Intro - Problem
---
Hello all, I've been a member here for awhile but just purchased my Versys earlier this month. I've ridden dirt bikes for 15 years and a DR-Z 400SM for the past year and a half. I was drawn to the Versys because of its upright seating position and ability to cruise the highway more comfortably than my single.
So far I love the bike. It has alot more power than my single but it is all usable and the gearing seems near perfect. I have put about 1300 miles on the bike in the last month. I'm going to get a new windscreen, being 6' tall the stock doesn't help, also the sw-motech crash bars with highway pegs and a trunk.
Now the preoblem, yesterday I was turning at an odd intersection that required me to make 2 90* left turns about 75 feet apart. I made the first one at approx. 10mph and accelerated towards the second one leaning far into it at about 25mph. It had rained the previous 2 days for the first time in probably a month and needless to say my front wheel lost traction on some kind of road grime. Before I knew what happened my handlebar met with the concrete and I let go of the bike watching it slide about 15-20 feet off of the road.
I got up and went over to it. Picked it up and tried to kick it into neutral but the shifter was so bent it wouldn't. I reached down and straightened it and fired the bike back up. There were other cars around and not wanting to have the cops involved I gave the bike a once over and took off. I rode home which was an hour away cursing the whole way. My accident although minor could have easily been prevented and the damage my body took could have been avoided had I worn some kind of knee protection.
Here are some pictures, I'm trying to decide what to replace and what to paint...My plan when I purchased the bike was to buy the green because of the blacked out side panels and wheels and repaint it this winter when I'm riding it less, not sure if the side panel can be painted now as the scratches are fairly deep.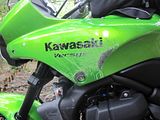 ---
Last edited by nofxman; 09-29-2010 at

02:43 PM

.
Member
Join Date: Jun 2009
Location: Henderson, cty, TX
Posts: 459
Mentioned: 0 Post(s)
Ouch; maybe order some panels from Europe/ Canada, or ?? that are a color you like (they had more/different choices) better. The yellow is my favorite. Only have to paint the tank that way (could be flat black ??).
---
Last edited by jcctx; 09-29-2010 at

03:16 PM

.
Wow, sorry about the crash. I hate seeing that. Hope your knee gets better soon.

Donn
Bummer for sure. I have never dropped a streetbike, and rarely a dirtbike either. I'm gettin' too old for that $hlt.
Unless the fairing is cracked or broken it can be sanded down, a little bondo as a surface repair is acceptable. I think the pieces are ABS, so it may even be able to just be sanded smooth, primed, surface putty, and repainted. Obviously replacements are also available. The stuff is really tough.
Gotta get those crash bars and hand guards on mine.
---
Chris Brown
In SoCal
2009 V - custom black-on-black - SOLD
Super Moderator
Sorry to hear about your small crash nofxman, bike parts can be replaced body parts cost a bit more.
Posting Rules

You may not post new threads

You may not post replies

You may not post attachments

You may not edit your posts

---

HTML code is Off

---