Member
Join Date: Jun 2010
Posts: 37
Mentioned: 0 Post(s)
Glove/Grip question..
---
Got a quick question. Has anyone out there had issues with maintaining grip on the throttle while wearing gloves? It seems I have to either squeeze a lot harder than I should, causing hand fatigue, or readjust every so often to keep the throttle in the same spot as my hand slowly slips around the throttle. The gloves are new, so maybe it'll just take some breaking in, but thought I'd see if any of you folks have some suggestions. Changing the grips could be an option, but not in the budget at the moment.
Try one of these, a throttle rocker. I ride with the front brake covered and using at TR, helps hand fatigue.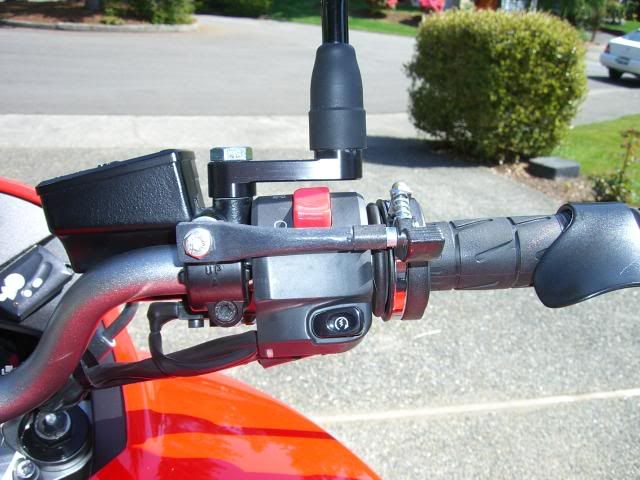 I'm talking about the thing on the right in this picture. As you can see I also use a throttle lock (on the left) so I can scratch myself of flex my right hand for short periods. That is made by Vistacruise and goes for about $15.00 as I recall, very easy to fit-poor man's cruise control.
Think TR was about $10.00 on the web. Also known as Crampbuster, check the back of any motorcycle magazine.
Machog
---
To view links or images in signatures your post count must be 0 or greater. You currently have 0 posts.
Member
Join Date: Feb 2010
Posts: 224
Mentioned: 0 Post(s)
Throttle thingie....
---
I also have that black plastic thing on my grip. It helps to stop my hand from cramping during long rides. I just have to rest my hand on it. My grips also have grip puppies and I also wear some type of padded glove when I ride.

Cb
I use a Throttle Rocker, too. On both bikes. Helps a lot.

I always wear gloves so I can't help you with the no-gloves issue.
---

To view links or images in signatures your post count must be 0 or greater. You currently have 0 posts.


[SIZE="1"]Ride. Good.

2019 F750GS
2014 R1200RT
2008 Versys (SOLD 11/19)
2003 ST1300ABS (SOLD 5/15)
IBA 59868
A good pair of Gel grips is only $10-$20 and well worth the money compared to the stock grip.
Iíve found that it all depends on the gloves/grips combination. Iíve had some combinations that would have my throttle hand aching after 15 minutes... but the leather palms on my current gloves (Olympia) with the stock í10 V grips are perfect! I can hold the throttle in position by just laying my hand on it without even closing my fingers but itís also not so `tacky' that I canít let it slip.
---
~~ Live Like You're Dying ~~
I have big hands and felt the same as you Tranquil. I put a set of grip puppies on and have been happy. The fatter grip provides better torque, thus less squeeze needed to hold and i think more precise throttle control. You may need to adjust your lever standoff because you lose about 3/16" of reach. $10 well spent.
Posting Rules

You may not post new threads

You may not post replies

You may not post attachments

You may not edit your posts

---

HTML code is Off

---