New boots
---
After well over 150,000 miles and 6+ years my Sidis are dieing. The soles are so far gone I can just about step on a dime and call it heads or tails. One zipper tag broke off and the shifter pad is completely worn off.
So I bought a pair of Gaerne G-Midland Boots BUT wearing these around town is like taking a M1A1 Abrams to the store for a paper! Still I wanted something besides a pair of work boot for the commuter type rides and I didn't need another $300.00+ pair of boots.
I saw a pair of Cortech Accelerator XC Boots that looked OK and the price at $149.00 was right in there so I popped for a pair. I ended up with a size 46 (11) and they seem to fit well with a nice large toe box that the Sidis never had. They are listed as water repellent, not waterproof but for what I want them for they should do in a light rain. There is no zipper just a internal gainer three nice big straps and buckles and a pad of velcro at the top to close them up. They are taller than the Sidis but fit under my pants leg without a problem.
While I have only had them a day I like them so far, other than I'll have to break them in a bit as the toe barely fits under the shifter on the Versys and KLR...the Royal Enfield? Forget it! But the Gaerne were the same way.
For $149.00 I couldn't really go too wrong as the next closest was over $220.00 a pair and no way they were waterproof.
---
Or was that look THEN leap?
To view links or images in signatures your post count must be 0 or greater. You currently have 0 posts.


2012 650 Versys
Nice find!
Not all my boots are waterproof, just have to use them within their limitations.
Enjoy them, sounds like you get all the miles from boots.
---
2014 Valkyrie 1800
On the boots there is a tag that says "Waterproof" so I guess I'll find out sooner or later if they are. I won't be doing any wading though.
---
Or was that look THEN leap?
To view links or images in signatures your post count must be 0 or greater. You currently have 0 posts.


2012 650 Versys
---
Last edited by Time; 08-15-2015 at

09:56 PM

.
For correct podiatry foot care, you should have 2 pairs of boots so one can be drying out in a minimum 24 hour time span. Take care of your feet!

Nice boots.
Member
Join Date: Jul 2010
Location: western wisconsin
Posts: 643
Mentioned: 0 Post(s)
Nice, really nice for the price.
Member
Join Date: Jul 2009
Location: Ottawa, ON
Posts: 3,353
Mentioned: 4 Post(s)
This spring I replaced my Sidi On Road Gortex with Dainese TRQ Gortex touring boots. They are not quite the value of the Coretec boots at double the price but I am still very happy with them. They were a ZLA award winner on the Revzilla site. The thing that sets these boots apart is the extensive ankle bracing that really protects your ankle from severe impacts and twists, the Gortex liner, and the ease with which they can be put on or taken off.

The Goretex liner is supposedly guaranteed 100% waterproof while still maintaining enough breath ability so your feet don't get uncomfortably damp when you sweat which makes them more comfortable in the heat than the average waterproof boot. They are somehow much cooler than the Sidi's were in hot weather while still being warm enough in the coolest weather (0C/32F) I ride in. They are very easy and quick to get on and off with only a zipper on the back and the thigh sizing adjustment is set and forget as it never needs to be touched taking the boots on and off. I also prefer the thinner, stiff, race boot type sole they have as it seems to provide slightly more feel on the brake pedal.
---
Last edited by twowheels; 08-17-2015 at

02:21 AM

.
The TRQs are also
my newest favorite boot (reviewed here)
. The calf adjustment feature is really smart, the protection is excellent, and they are definitely waterproof. I know. I've tested: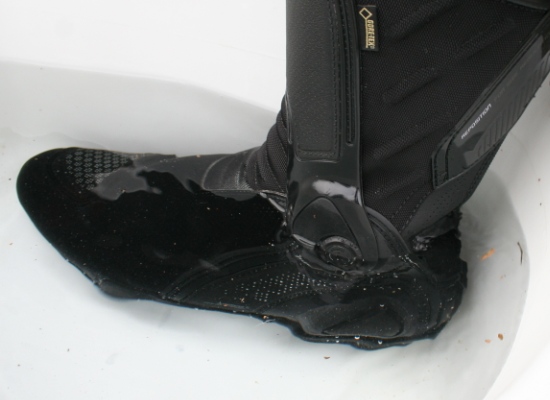 But not cheap.
---
Whitehorse Press is going out of business so it's time for a final sale. Signed copies of my book are now $10 with free shipping in the U.S. while they last.
To view links or images in signatures your post count must be 0 or greater. You currently have 0 posts.
.
Posting Rules

You may not post new threads

You may not post replies

You may not post attachments

You may not edit your posts

---

HTML code is Off

---